The Ultimate Frontier
A account of the ancient Brotherhoods and Their profound, world-wide influence during the past 6000 years.
Here can be found the inspiring story and world view of an brotherhood of scientist-philosopher saints dedicated to improving and preserving the best of civilization. Their philosophy provides a common-sense approach to personal spiritual growth that has been used successfully thousands of men and women who have learned to overcome the negative aspects of contemporary society and how lead happy, prosperous and fulfilling lives. The world view of the brotherhood includes the probability of coming economic strife, increasing incidence of destructive winds, drought, floods, seismic and volcanic activity, and a reapportionment of Earth's land masses prefacing a Golden Age of humaneness and spiritual enlightenment. Some of the other fascinating subjects are: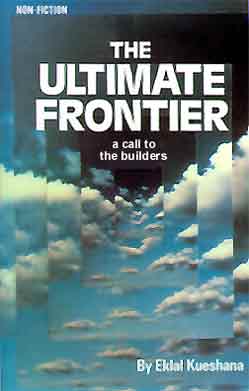 * The coordinated program behind the works of several members of the brotherhood-- Jesus, Moses, Buddha, Isaiah, Akhnaton, Confucius and Lao Tzu.
* Jesus' world travels between his thirteenth and thirtieth years of age.
* A moving story of a community that is actually living by the Brotherhood's philosophy in the U.S.A..
* A Master Plan dating from 4700 B.C., as recorded in the Great Pyramid of Gizeh, for establishing in October A.D. 2001 a new nation heralding a Golden Age of spiritual enlightenment.
* The likelihood of increasingly destructive weather, seismic activity, and economic strife as the century draws to a close.
This book explains the mysteries of human existence intelligently and provides a moving and practical message of hope.